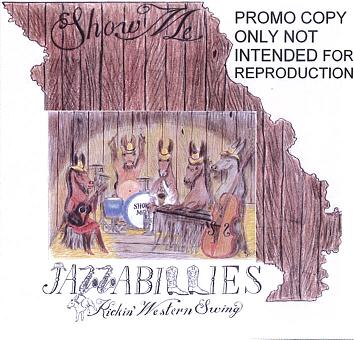 Album: Show Me
Artist: The Jazzabillies
Label: Q-Tone
The Jazzabillies have just completed their first album and it is quite an album of some very hot western swing. The individual musicians are each very talented on their own and should be familiar to most fans and followers of western swing music.
Jimmy Queen is heard playing drums, lead guitar, trumpet, trombone, sax, piano and harmonica. In addition, he is heard on vocal on the pop standard The Way You Look Tonight and a Merle Travis western swing standard remade as Big Gal. Jimmy's lovely wife, Starla Queen plays rhythm guitar and does the vocals on four very different tunes that show off her versatility. They are Ray Pennington's very hot Turn Me Loose And Let Me Swing, the country classic from Dottie West and Ray Price Here Comes My Baby, another very hot tune that shows off the entire band called Show Me and the pop and big band standard Deep Purple. Scotty Henderson is heard playing some very exciting steel guitar and handles the vocals on the old favorite Butter and Egg Man and Ain't Nobody Here But Us Chickens from Louie Jordan and Asleep At The Wheel. Dave Owens is the bass player and quite a vocalist on the Tommy Edwards pop standard All In The Game and two western swing favorites, Paul Westmoreland's Detour and the Johnny Bush gem From Tennessee To Texas. Former Mel Tillis Statesider, Ernie Reed is the fiddle player and Lonnie Patterson plays lead guitar on Show Me. The remaining cut in this 12 tune CD is the super instrumental Swingwalk.
The CD can be ordered for $18, which includes shipping at www.jazzabillies.com It can also be ordered for that price from Jazzabillies c/o Jimmy and Starla Queen, 302 Blair Ave, Camdenton, MO 65020. You can save money by taking advantage of downloads for $1.25 per song or $10 for the entire album from www.jazzabillies.com
Mike Gross, WVOF-FM, Fairfield, CT and www.swinginwest.com